Post by cofi on May 16, 2008 16:53:00 GMT
Conklin Guitars and Basses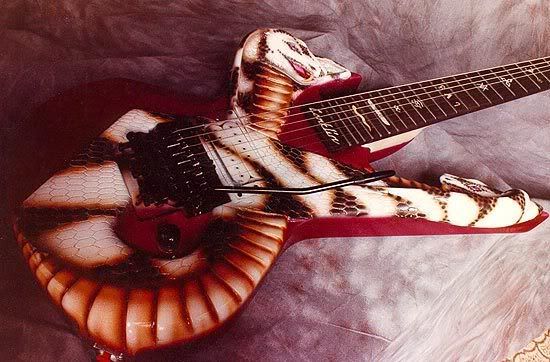 9 string bass
Conklin Guitars and Basses has become known for its many unique creations
and exclusive innovations, but nothing sets us apart from the pack like our
magnificent "Melted Tops". Early in 1990, Bill began experimenting with
using several different species of wood to make a guitar top; something that
would be in sharp contrast to the standard bookmatched top. After playing
around with inlaying and intarsia he came across a woodworking method that
had been used in old-school furniture manufacturing and the light went on
in his head. He realized he could adapt this technique to making guitar tops
(as well as fingerboards, headstock veneers and even pickguards).
Shark Guitar
Excited
at the prospects, Bill and his partner Phil Goschy made drawings of simple
but elegant free-flowing graphics that followed the traditional lines of
their Sidewinder and Crossover guitar and bass bodystyles. From there they
developed the process of joining various species of exotic woods to create
stunning "organic graphics" with visually stimulating contasts, that portray
movement, harmony and excitement.
Find out more about "Melted Tops" in our Custom Shop catalog available in
the "Downloads" section.
Eight string bass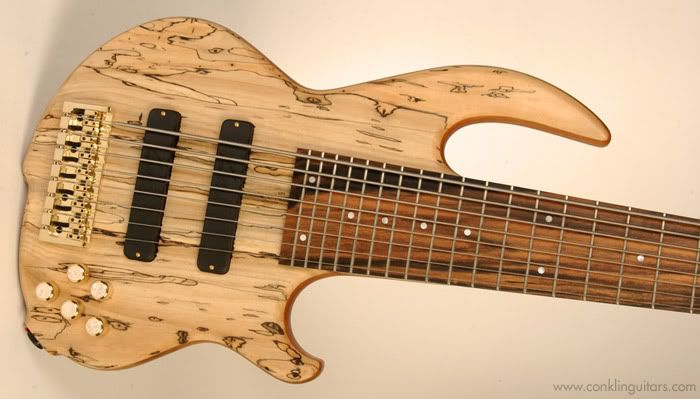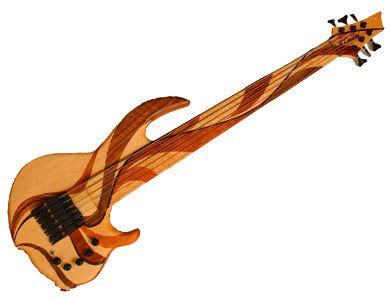 Other items exclusive to Conklin are our "Off-sides" position markers which
are located along the upper edge of the fingerboard doubling as top and side
dots which allow viewing from any angle. Our original ergonomically-designed
bodystyles which feature our exclusive "neck-thru-body-feel" heel, the most
radically contoured neck heel anywhere. Finally, our limited lifetime
warranty which covers defects in construction for as long as you own your
instrument.
Conklin double neck bass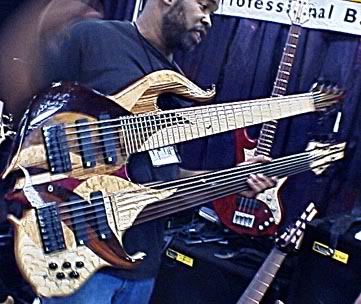 Some bass payers only need four strings. For those that yearn for more here's a double neck bass that's got seven strings on each neck. The upper neck is fretted and the lower one is fretless.
Go over to they're web-site, to see some more of "In-your-face=basses", and some really far out"Bizarre Guitars
Conklin Guitars and Basses
P.O. Box 1394
Springfield, MO 65801
(417) 886-3525
www.conklinguitars.com