Post by cofi on Aug 6, 2007 22:41:51 GMT
One of my student has just bought one of these Tascam CD-GT1 Mk2 Portable guitar Trainer, he brought it along for me to have a go and have a look at

Don't know if anyone on here as tried one, but i found it's pretty good, works just like it Say's, very good for learning leads etc

,
I'll copy what it's Say's about it,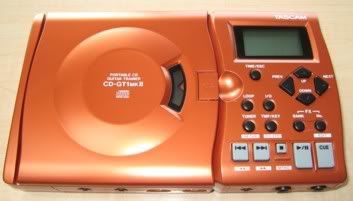 The new Mark II Guitar, Bass and Vocal Trainers are the latest introductions in the portable CD trainer line – a product category literally invented by Ta scam. Like the CD-GT1 and the follow-ups CD-BT1 and CD-VT1, the Mark II trainers have the ability to slow down the speed of a CD without changing the pitch, or to alter speed and pitch of playback at the same time. This allows musicians to learn fast licks, rhythm parts and solos from their favorite artists. The three models also have new effects for even better reverb and amp simulation. A new metronome helps musicians practice even when a CD isn't playing.
The new Guitar Canceller effect with selectable cancelling point on the Guitar Trainer enables players to virtually mute the guitar part so that they can play along. The Bass and Vocal Trainers include an advanced cancellation option for better elimination of the original bass or vocal track. And finally, all of the CD Trainers have a new split monitor function which offers the possibility to route the original CD to one side and an instrument to the other side of the stereo output
A great little gadget, something else to go on my xmas wishlist.


Here is a few reviews that posted about it.
Reviewed By: lancewood01@hotmail.com,
After putting off really getting into guitar for far too long (been a bass player for 25years) I decided to get stuck in. The CD GT 1 has made progress so easy, not to mention unlocking the "secrets" of some of my guitar hero's, that I can't leave it alone. Initially I was a little daunted by the menu functions, but after a while they make sense and are easy to navigate. If I have one down point, it's that the effects are difficult to get the classic settings I'm looking for, but then again it's a practice tool not a performance pre amp. I recommend that anyone looking to improve their playing should take the time to put this unit through it's paces - it really is that good
Reviewed By: Wayne L.,
In today's CD-media crazy world, this product is a great idea. The looping and cue features allow you to concentrate on the phrase you'd like to learn. Great for all skill levels. Effects are a nice touch. Make sure you get the adapter as well; this puppy's power-hungry and 4 AA batteries won't cut it. The menu features are a little confusing at first; it'll take about an hour to get comfortable. Overall a great product! Thank you Tascam!