Post by cofi on Apr 15, 2008 15:07:58 GMT
I just love Mike's playing, i find he plays with a lot of feeling, listen to his songs & you will see what i mean ;D
If you go over to Mike's my-space page you can hear some of his songs, like "Hooked" "Teaser" "Bad Dream" and "Strange Things"


[shadow=red,left,300]Mike Dollins[/shadow]
MySpace URL:
www.myspace.com/bluesguitarmike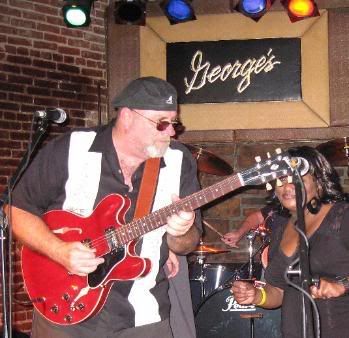 Mike Dollins
Raised in a multicultural, ethically diverse post World War II, San Diego neighborhood built for quick housing relief during the war named Linda Vista. Grew up with all the baby boomers that reached puberty listening to Chuck Berry, Coasters, Drifters, Elvis and Bill Doggett. Quickly favored R&B and Soul music over top 40 bubble gum songs. Picked up the guitar somewhere around 1958.
Started playing pop music, (now R&B classics), in high school dance bands during the sixties. In 1963 entered the United States Air Force, and took his guitar, Mickey Baker's Jazz Guitar book and five record albums:
· Bobby Bland's "Here's The Man,"
· James Brown's "Live at the Apollo Theater,"
· Ray Charles' "Greatest Hits,"
· Freddy King's, "Hideaway,"
· B.B.King's "My Kind of Blues."
Formed the Fabulous "Jades" while in the Air Force with the superb talents of Big John Johnson, Leroy Johnson, TC Webb, Leslie Burnside, Nevilles and Don Grady. Was exposed to Hard Bop, and bought his first jazz album in the USAF, Miles Davis' "Seven Steps To Heaven." This addicted him to Hard Bop for a lifetime. Jimmy Smith and Kenny Burrell's, "Blue Bash" best-loved album. Favorite jazz tunes: "All Blues" by Miles' crew, and "Song For My Father" by Horace Silver.
Returned to California, and his hometown of San Diego, in 1967, and started playing in pop bands touring around California. Formed the Irvine "Big Daddy" Rucker, Blues Band writing songs, and recording. Michael maintains the largest record & tape collection of late blues legend Big Daddy Rucker. Spent the remainder of the seventies writing, sitting-in with other groups and at backyard barbecue jam sessions. (Real Garage Band Stuff)
Started "Cruizin," an Oldies but Goodies band, with Victor Marquez during the early eighties, and brought back classic Rhythm & Blues songs. Finished off the eighties in the King Biscuit Blues Band with blues harp king, Ken Schoppmeyer. Created Bostonia Music (ASCAP), recording and producing. Established a guitar shop called "The Music Store." Guest appeared on local Radio Stations. Produced the publication, "Strictly Nothing But The Blues" during the late eighties and early nineties, while writing for other jazz & blues publications. Formulated, "Blues Guitar Chord," manual, which is still in publication.
In the mid-nineties Started playing in coffeehouses, and sitting in with different groups. Invited as the guitarist for the Gospel singing group, "The Brothers Of Praise," co-writing, arranging and producing their first CD entitled, "Are You Ready." From 1997 to 2001, Michael played locally, but has mostly concentrated on writing, arranging and recording in his computer based digital studio. His first CD was titled; Jazz, Rhythm & Blues.
Major influence icons: BB King, Kenny Burrell, Freddy King, Wes Montgomery, Albert King, Wayne Bennett, Billy Butler, Oscar Moore and Otis Rush. Current favorite picker is Chirs Cain with Blind Pig Records. Favorite Jazzmen: Donald Byrd, Oscar Peterson, Jimmy Smith, Lee Morgan and Horace Silver. Favorite Gospel Groups: Gospel Hummingbirds & Jackson Southernaires. Favorite blues tunes: Stormy Monday and Driftin' Blues, by Bobby Bland. Favorite Album, BB King, "Live At The Regal." Favorite jam, "Blue Train" by John Coltrane.
Web Page:
mikedollins.homestead.com/MikeDollins.html
The Blue Cat's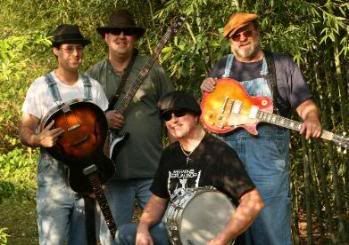 'Mike Dollins & Cruize Brothers - Live' -- by Joe Curtis --
Mike Dollins & Cruize Brothers 'Live' is truly just that! An off-the-floor live
jam that clicked - preserved for musical posterity for those who really dig
the truly live 'magic' that happens sometimes, but rarely has the fortunate
chance of being recorded.
The Cruize Brothers band features San Diego Bay blues/jazz guitarist and
harp player Mike Dollins, sharing lead and rhythm guitar duties with fellow
guitarist Victor Marquez. Dollins also sings lead vocals on this fusion CD.
The superb Cruize Brothers rhythm section is composed of the Enjambre
Family Latin Jazz Connection featuring Roy Enjambre, Dominic Enjambre
and Roy Enjambre Jr. -- a popular Bay-area combo -- on bass, keyboards
and drums respectively.
The first tune -- one of two Cruize Brothers originals featured -- is
appropriately titled "Cruize Control". It's a real attention-grabber featuring
energetic, wild soloing on guitar, organ and bass; reinforced by incredible
jazz/blues guitar rhythms and hard-driving drumming.
The highlight for this writer, is "Sky Train" -- a superb slow blues winner,
that soars to the 'blues sky' with mouthwatering guitar solos that cry out
their urgency, and can definitely provide blues aficionados with their 'blues
fix'. Dollins sings out "the sky is crying", which is complemented by his
'crying' guitar riffs. Dominic's organ accompaniment is full-bodied and
adds much to this tune, as do the jazz/blues guitar rhythms, exquisite
piano soloing and Roy Sr.'s beautifully melodic bass solo featured in this
awesome winner.
The classic jazz/blues "Summertime" is done in a Latin/Jazz style. This
refreshing rendition showcases the Cruize Brothers' Enjambre Family
Latin Jazz Connection rhythm section. The electric piano and percussion
solos they do, are enchanting, and are complemented by brilliant lead and
rhythm jazz guitar and percussion. The guitar leads scream out their
intensity, as only a master of the instrument can interpret them -- conjuring
images of Carlos Santana "
The classic "Stormy Monday" follows, and right from the start it's obvious
this rendition will be special, due to the fast-paced soloing intro. Dollins'
vocals are smooth, mellow and enjoyable to listen to in this classic blues
standard. The jazz-influenced guitar soloing and organ harmonies add a
classy jazz influence, which makes this version a classic in itself. Roy Jr.'s
drumming is excellent throughout. The guitar solos are well done but not
over-done. An inspired electric piano solo occurs just at the right time -
then more of Dollins' heartwarming, mellow vocals, along with incredible
guitar leads and jazz rhythms.
This energy is sustained throughout this classic blues CD, live and
thoroughly enjoyable jazz/blues jam-style concert featuring Mike Dollins &
Cruize Brothers.
King & Mike
Mike set up nowday's, I just love the color of his Les Paul

Contact Information
JAM Records
P.O. Box 191056
Little Rock, AR 72219
United States
E-mail: Mike Dollins
Web site:
www.mikedollins.biz
MySpace URL:
www.myspace.com/bluesguitarmike
Great stuff