Post by cofi on May 8, 2008 9:56:52 GMT
The Hagstrom Swede Patch 2000 Bass with Synthesizer Interface


This guitar was made in alvdalen, Sweden in 1970. in the first year they were built, they weren't called swede but "lp", the name change probably was a result of the model guitar being exported abroad.
The features are identical to any pre-1976 swede(when they switched to a set-neck design). All mahogany, bolt on neck with ebony fretboard, mop block inlays, those elegant Hagstrom tuners, a very unpractical adjustable bridge, dual humbuckers, 2-tone 2-volume pots, 3way selector and 3-way "mystery switch"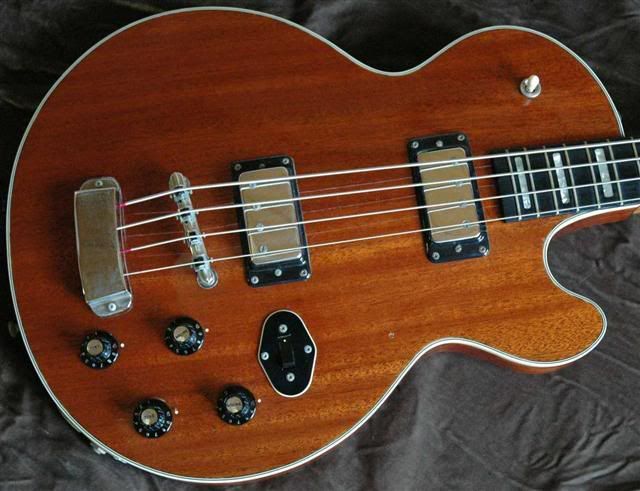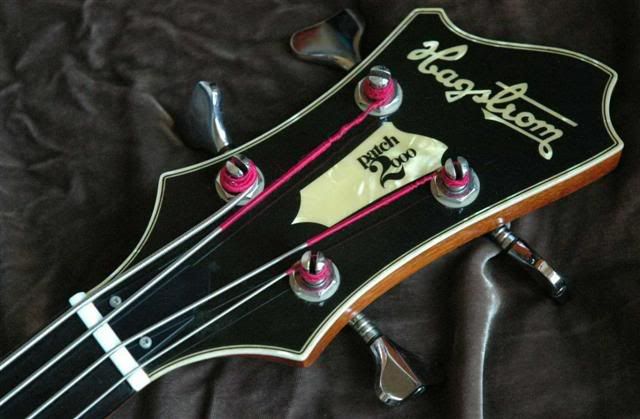 There is a rumor going round that the first batches of Hagstrom humbuckers were a lot like Gibson PAFs(its in fact very probable that they are copied from Gibson's design) in having a very special "magic" sound. This rumor could be true because they are VERY good pickups indeed.
Very balanced, defined and rich tone with a lot of bite, completely free of mud. They sound very genuine.

This is a very versatile Bass guitar, and is good for playing in a variety of music from blues, pop, jazz, and country, and everything in between. The guitar sounds best played thru a trans-tube amp. (for my liking)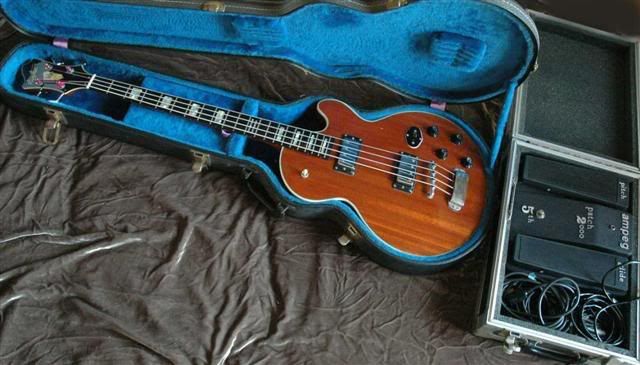 Here's a video of Steve Pacelli demoing the Hagstrom Patch Guitar system (original footage from 1977) courtesy of Lennart Johnsson, presented by Hagstrom UK www.hagstrom.org.uk

The Patch 2000 is a pre-midi synth interface designed to operate with specifically designed instruments. The "box" is part of a package that includes the guitar or bass. This was sold in the USA by Ampeg, although it sold in Europe without the Ampeg companies inclusion. It is made to interface with older style analog only synth units such as Moog or Arp. The Patch 2000 guitars and basses are unique in that they have double functions. First, it has two magnetic pickups and an output jack for the normal magnetic pickups to connect to an amplifier. Second, it is wired inside the neck to each individual fret wire. The bridge and tailpiece have insulators to make the four strings electrically isolated from each other. A second output is included, that goes to the patch unit and the bass can function as a standard instrument and synth controller simultaneously. When a string is fretted it effectively closes a switch, between the string and fret. If multiple strings are fretted the lowest string and highest fret is the synth function pitch. It is not necessary to pluck the string for the patch 2000 note to activate. The Patch unit has foot treadles for PITCH and GLIDE. The Patch 2000 also includes a 5th function, which is activated by the pushbutton switch between the two treadles. The 5th function would caause the synthesizer note pitch to be a fifth higher than the actual fretted note (the major dominant).The Patch 2000 interface was packaged with different Hagstrom guitars and basses, only higher end models. This is actually an Ampeg/Hagstrom package, with Ampeg as the USA distributor.


Hagstrom Guitars Patch 2000 Synthesizer Guitar Demo
Quite cool,